Stage 1 was very quiet early on. Team Radio Shack was doing most of the pace setting since they were in control of the yellow jersey. They kept a pretty slow and easy pace for the first half of the race or so. The riders typically ride in a large dense pack called the peloton. They ride in this formation because it reduces wind resistance and is more efficient.
Things changed suddenly about 10 miles out from the finish when cross winds split the peloton. When this happens, those at the front of the group accelerate incredibly and try to decimate the peloton. The winds coupled with the sudden acceleration makes it incredibly difficult to catch the riders at the front of the group.
2 miles from the finish, Cancellara attacked, Sagan, and Boasson Hagen were right there with him. It was a gutsy move to lead out a full 2 miles from the finish but it would prove to be successful this time, but not for Cancellara.
At the line, it would be Sagan who would get the stage victory during the first stage of the 2012 Tour de France. It was also the first stage he's ever competed in at the Tour de France. I had predicted yesterday that either Gilbert or Sagan would be the victor today and that came true.
Stage 1 results:
Sagan
Cancellara
Boasson Hagen
Gilbert
Not bad.
Stage 2 profile is about 128 miles long and looks to be very flat. These profiles favor the sprinters and tend to produce exciting finishes.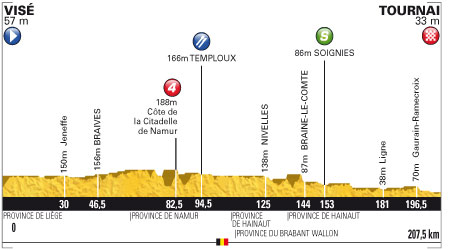 Though Mark Cavendish said that he would not be chasing after the green sprinter's jersey this year, no one believes him, including me. I like Cavendish, Sagan, and Farrar to be there slugging it out at the end tomorrow.