The final stage of the Tour de France is largely a ceremonial showcase for the winner of the yellow jersey, as well as each of the other jersey winners, but it's also the final opportunity for the sprinters to capture a stage victory. Traditionally, the winner of the tour poses with his team and the other jersey winners at the front of the peloton for photo opportunities. Sometimes they celebrate by sipping some champagne on the ride as well.
In this year's race, it is also the final opportunity to pay homage to George Hincapie, the only man to complete 16 Tour de France races. Prior to the race, Big George had announced that this would be his final race.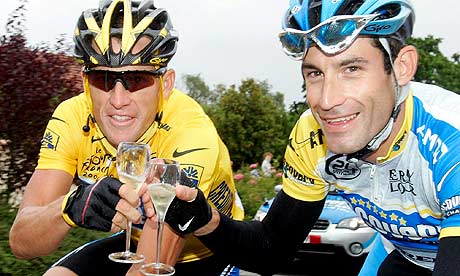 Normally it's enough just to recognize someone that's completed so many grueling races but Hincapie's contributions go well beyond just finishing the races. Hincapie was on 9 different TdF teams that had the overall winner of the Tour de France. 7 were with Lance Armstrong, 1 with Alberto Contador, and 1 with Cadel Evans. That's a pretty good career, even if it's marred with controversy.
Hincapie has recently outed Armstrong as having used performance enhancing drugs. Armstrong is currently involved in a battle with an anti-doping agency that's accusing him of cheating in all of his 7 Tour de France victories. We'll see what happens with that in time. For now, back to the race…
Stage 20 has a small circuit that's covered repeatedly up and down the streets of Paris near the Arc de Triomphe and the Chomps Elysees where the streets are lined heavily with hundreds of thousands of people cheering on the riders. Each lap of the route slowly gets faster until the final lap when the sprinters take over.
Mark Cavendish has never lost this stage and is considered a huge favorite to win the stage. Team Sky has locked up the 1-2 finish with Wiggins and Froome and are expected to ride in support of Cavendish in order to give him the stage win.
There is always a break away team on the final stage though. They never survive. This year, there were 11 riders on the break away stage. At one point, 3 of them survived and they had opened up a time gap of about 24 seconds at the peak. They wouldn't survive though. The peloton, lead by teams Liquigas and Sky would crank up the speed and ultimately chase them down with about 1.6 miles to go. The sprint teams would be able to line themselves up to create lead out trains for their sprinters.
Wiggins lead out Boasson Hagen and Cavendish with .5 to go. They were in perfect position. Cav fired on the final straight away and easily took the stage. It's the perfect ending to the perfect race that Team Sky ran.