The 2012 Tour de France came to a close Sunday and Bradley Wiggins, the favorite to win it all, stood on the top of the podium sporting the yellow jersey. It wasn't a surprise but it did mark the first time a British rider would win the Tour de France. Here's the most memorable moments from the 2012 Tour de France.
Peter Sagan wins stage 1 in style.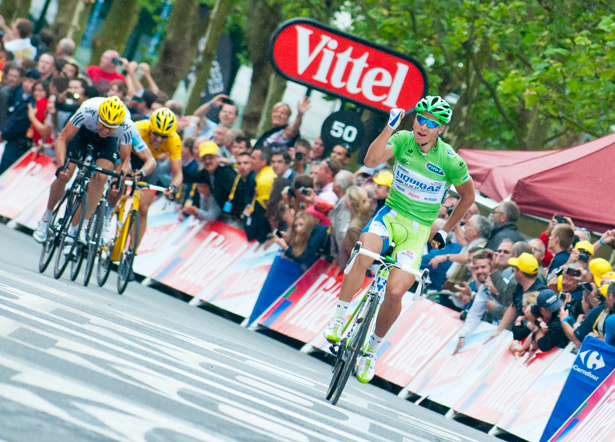 We all knew that Mark Cavendish was hands down the best sprinter in the race but we didn't know how he'd perform without the dedicated lead out train that's he had on his previous team. Now a member of Team Sky, their focus was squarely on putting Bradley Wiggins in the yellow jersey. Simply put, Cavendish would have to make his own fortune. Cavendish won his fair share of stages for sure, but it was Peter Sagan, racing in his first Tour de France ever, that stole the sprint finishes and won the green sprinter's jersey. He announced himself in style on stage 1 when he crossed the line doing the "Forest Gump".
Chris Froome had more to give.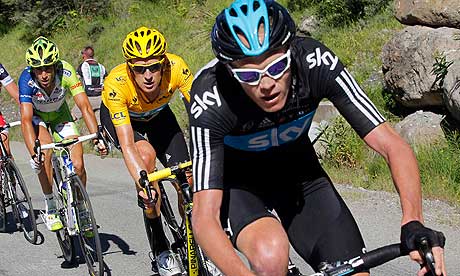 Chris Froome proved that he had what it takes to ultimately win the Tour de France. But there was a problem. He was riding on the same team as his teammate and team captain Bradley Wiggins. On more than one occasion, Froome was shown dropping his team's captain on his way up the high mountains. I got the impression that there was some miscommunication that lead to these moments as he would quickly slow down his pace and let his captain catch up so that he could resume pacing him up the mountain. It was easy to tell that Chris Froome was clearly the best rider of the high mountains this year despite not winning the King of the Mountains jersey. He won something better, 2nd place at the Tour de France. Chris Froome's story will be the one to follow in the off season. Will he remain on Team Sky or will he go to another team that's in need of a GC rider? Time will tell.
Marc Madiot screams at Thibaut Tibot on Stage 8.
French rider Thibaut Tibot would attack on Stage 8 of the Tour de France and would go on to inevitably win the stage. That's all well and good but the memorable part of the day was when team manager Marc Madiot was shown on the TV riding in a car behind him encouraging his rider by yelling at him. This is odd because all of the riders in the race wear radios so that they can communicate with their team's manager. Madiot was apparently so excited he would forego the radio in favor of yelling out the window. This video does not accurately capture what this was like. He yelled for about 5 minutes straight.
Thomas Voeckler wins the King of the Mountains title for France.
France loves their riders and Thomas Voeckler winning the King of the Mountains classification was a wonderful moment for France. Most riders will don some sort of special equipment to match their jersey in the event that they were to win one of the special jerseys from the race. Thomas Voeckler may have taken things a little too far though.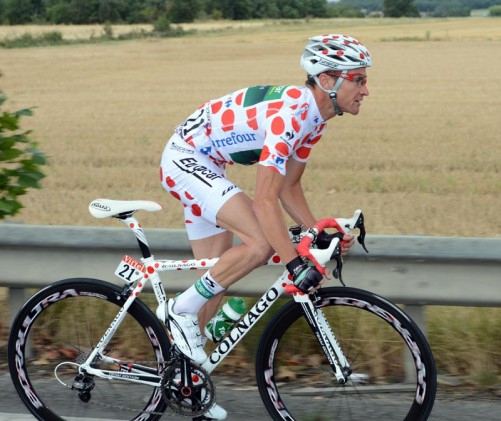 George Hincapie completes a record 16th Tour de France.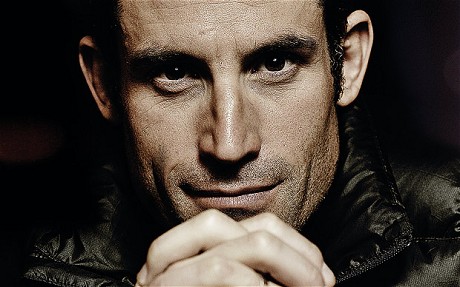 George Hincapie has been a part of 9 winning Tour de France teams and has completed 16 Tour de France races. It's an astounding statistic when you consider how frequently people crash and end up abandoning the race. 198 racers started this year's race and 45 people abandoned it. Nearly 1/4th of the entire field failed to complete the race yet Hincapie has completed it 16 times. For many riders, simply participating in the race is an honor. He's finished it 16 times and won 4 stages. An incredible career.
Hincapie has recently come under some controversy for allegedly outing Lance Armstrong, former teammates and himself for having used performance enhancing drugs in their careers. Certainly not the greatest moment of his career.
Mark Cavendish passes Lance Armstrong for most stage wins in the Tour de France.
Even without the dedicated lead out train, Mark Cavendish was able to win multiple stages of this year's Tour de France, including the coveted final stage in Paris that he's now won for a record 4th time. He wasn't able to lock up the green jersey but he was able to pass Lance Armstrong and move into 4th place overall for stage wins at the Tour de France. Cavendish now has 23 stage wins while Eddie Merckx holds the record with 34 wins. There's still a lot of work to do there for Cavendish if he wants that record for himself.

It wasn't all great though…
Bradley Wiggins wins the Tour de France.
I have no issues with Bradley Wiggins winning and honestly find him quite likable. It's just less exciting when the favorite to win the race prior to the start goes on to win it. In Wiggins' case, he wasn't even tested. It was easy for him and that made it less exciting to watch. The race wasn't as exciting this year without Andy Schleck, Alberto Contador, and Thor Hushovdt.
Frank Schleck tests positive for a banned diuretic.
Andy and Frank Schleck have always had the reputation of being clean riders that are good for the sport. That all went out the window this year when it was announced that Frank Schleck had tested positive for Xipamide. Diuretics are commonly used to reduce weight which would make riding in the high mountains easier but they're also used to flush your system of other performance enhancing drugs. After testing positive, Frank Schleck immediately abandoned the race, declared his innocence by stating if he tested positive, he was poisoned somehow, and now he has requested that his B sample be tested. There is no ban that will be imposed for this infraction but it does tarnish his reputation considerably.
Armstrong's former teammates go on record
A number of Lance Armstrong's former teammates confessed to having used performance enhancing drugs in the past and accused Armstrong of doing so as well. This news came out during the first week of the Tour de France this year. Every year something like this happens on cycling's biggest stage. These accusations always come out when everyone is paying attention to the sport of cycling. This case is high profile and we'll see what happens next.
45 riders abandoned the race
Crashes are incredibly common during this race and riders are frequently forced to abandon. I'm unaware of what the record is for most abandons but I do know that 45 abandons is more than what has happened in any edition of the race in the last 5 years.